We located the right suburb for a Mobile Audiences deep dive: the suburb of Naperville, Illinois, just west of Chicago. The town features a sprawling outdoor history museum that depicts life in Naperville's early days, but with a population of almost 150,000, it's a thoroughly modern city. In Naperville, the median age is 35 and a median family income is $127,5541. The town has a vibrant Main Street shopping area as well as a commercial district with major big-box retailers. These are stats we love to look into, so we decided to study Naperville for two weeks to discover what kind of audiences can be found there.
Mobile Audiences Data in Naperville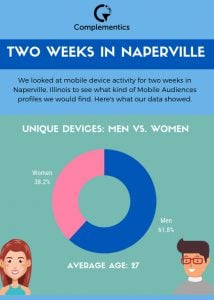 The video above shows activity on mobile devices during a two-week period in Q4 of 2018 in Naperville. Complementics engineers geofenced the shopping district to observe mobile device activity throughout the time period. What did we see?
Activity on 122,271 unique devices and more than 8.8 million events 

Average of 23,000 devices seen on average 30 times per day

Visits to more than 15,057 Points of Interest (POIs) in Naperville – an average of 237,331 visits per day

Retail traffic was booming – Target had 15,314 events, WalMart saw 12,401 and Nordstrom clocked in at 7,556

The average age was 27 years old

There were more men than women active – 61.74% men vs 38.2% women
Rich Data for Deep Study
With access to more than a billion devices globally, we can look at almost any POI on the globe to deliver specifics such as mobile device type, age, gender, and more. On average, we can track more than 53 billion events per day from more than 74,979,500 unique devices globally. 
We deliver data to our clients at agencies, publishing firms,brands, hedge funds, and more so they can get the rich insights.
Our clients use this data to:
Refine audiences for ad targeting

Deliver better search results to site visitors

Make smarter decisions about future investments

Drive visitors to the right content

Understand brand activity and affinity

Augment brand loyalty data

Push the right content to the right person at the right time
Data at Scale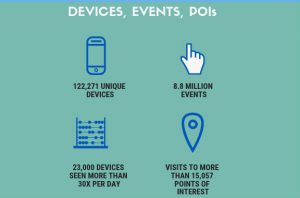 Looking at two weeks in one midwestern suburb delivers a lot of data. Imagine what you could do with this kind of data at scale. Peer into activity at points of interest across a city – or across the globe, dig into activity to see which demographic is visiting your retail locations, or find out if traffic is increasing because of in-market ad campaigns you've placed.
Find out more about our data, location services, audiences platforms and more. Visit our location data page, or get in touch with us for more information.
1 City of Naperville statistics, https://www.naperville.il.us/about-naperville/demographics-and-key-facts/
** Please note: Complementics data is representative of data accrued by Complementics and its data partners.